for all orders in Semenanjung Malaysia

Over 1,000+ 5 - star customer reviews

Designed and produced in Malaysia
Personalize your memories
What is this all about? At Stars Above Us, we make uniquely design star maps showing the unique alignment of the stars at specific place and time.
Personalize your custom starmap in 3 simple steps: Put in your location, date (and time if available), and your title. Price starts at RM 179 based on the sizes  
The perfect gift for special moment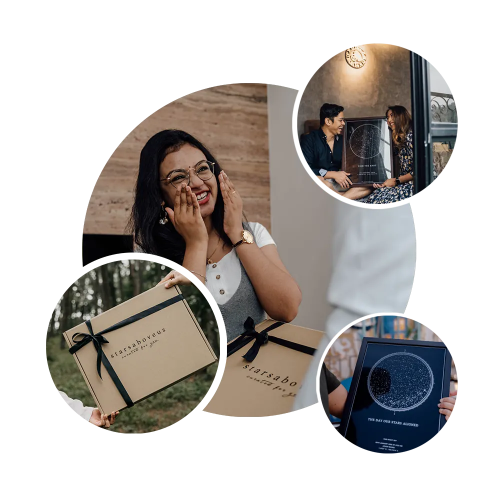 Looking for a meaningful gift?
Giving the person you love the perfect gift is always difficult. Any precious memory you share will be a meaningful and sentimental gift. No matter what the occasion is, giving a star map will add the unique touch. This time, give them the star map.

A gift is as good as the packaging
First impression is always the key! Choosing a wrapping and a gift box could take so much of your time. We have decided to lift that burden from you and include our very own gift box. Yes, it is free!

Customize your own star map with ease & instantly place your order.
Starmap: For normal completion, your parcel is ready for pick-up/shipping within 3 working days. Urgently need the parcel? No worries! We provide next-day shipping (fast completion) with a little extra charge.
Starlight: For normal completion, it will be shipped within 2 weeks. For fast completion, we will ship in 5 working days
Suitable for literally every occasion!
Put extra meaning behind a gift for any occasion that you are celebrating.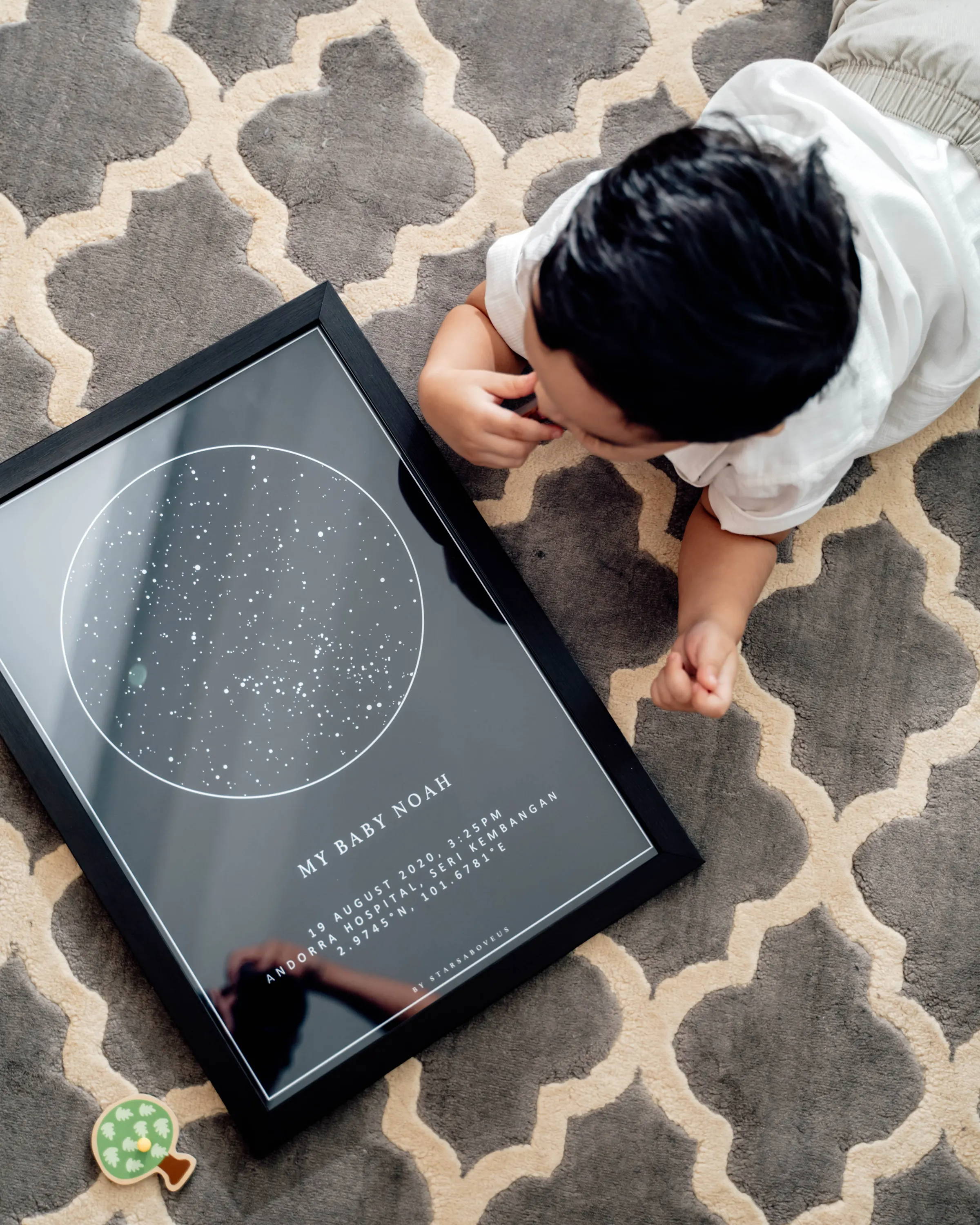 The day your child was born
"I bought this star map as our home decor to mark the birth of our first child. It will always remind us on how lucky we are to receive a precious gift from God. "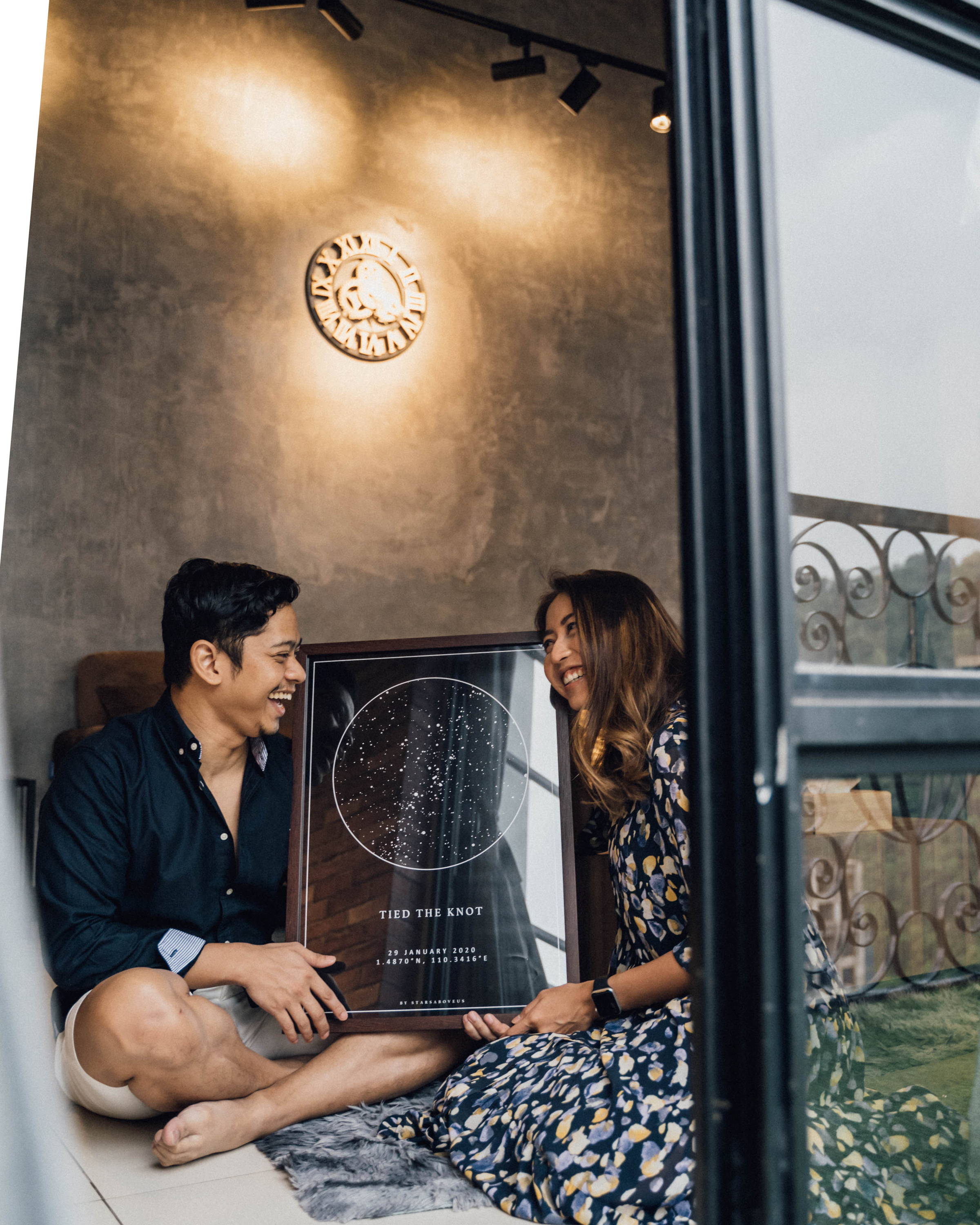 "29 January 2020. Our most cherished day, our wedding day! I've never had a wish list for my birthday but this year my family surprised me with this gift from Stars Above Us. It shows what the sky looked like on the unforgettable moment of me getting married to my charming husband. One of the gifts that just make you smile"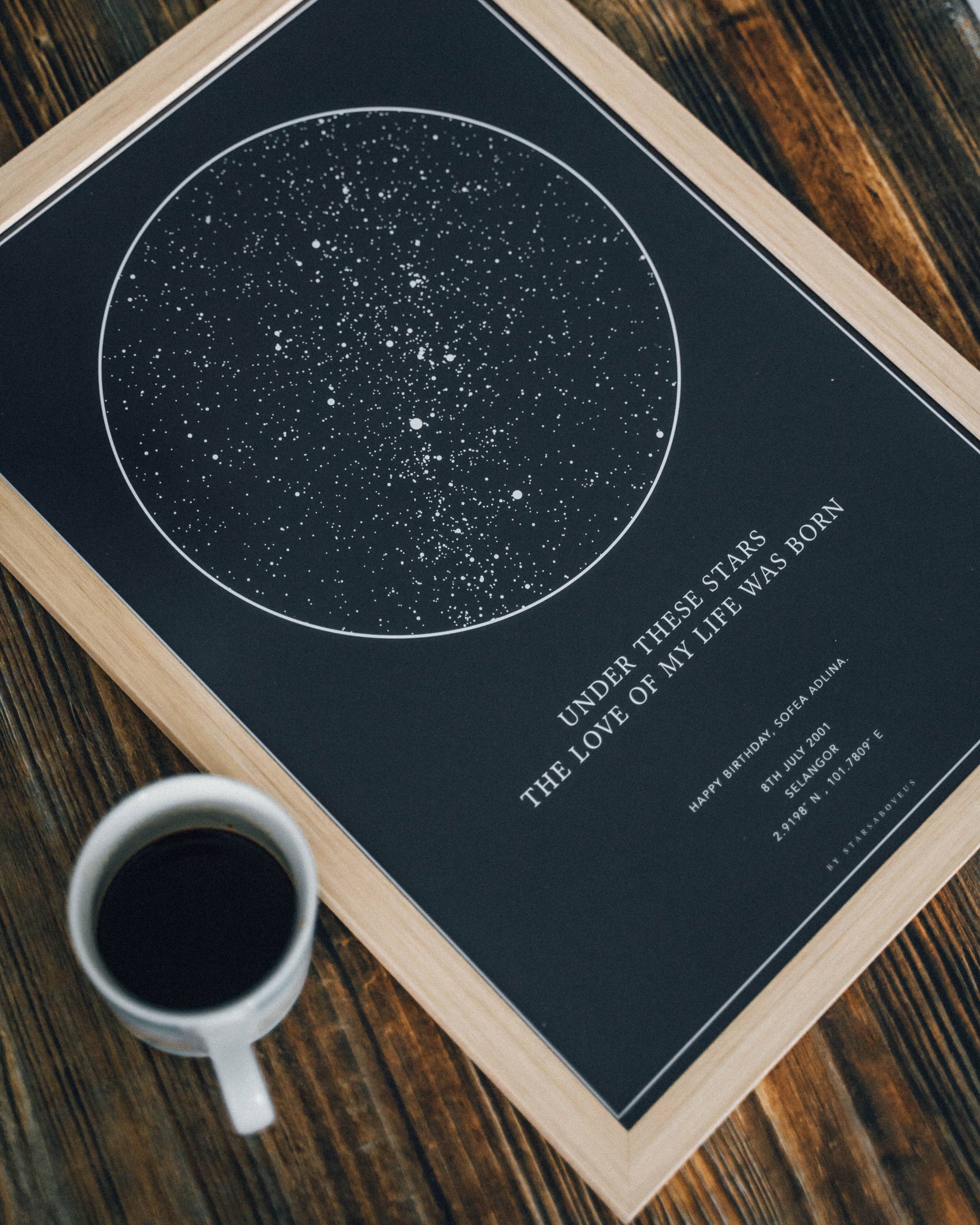 "When I was finding a gift, I know that I want something different and one with high quality. The product itself is AMAZING! Something really personal and something you can always treasure. For someone who is afraid of the quality of product from online shopping, this one totally changed my mind and I really appreciate the quality"
Personalize Your Star Map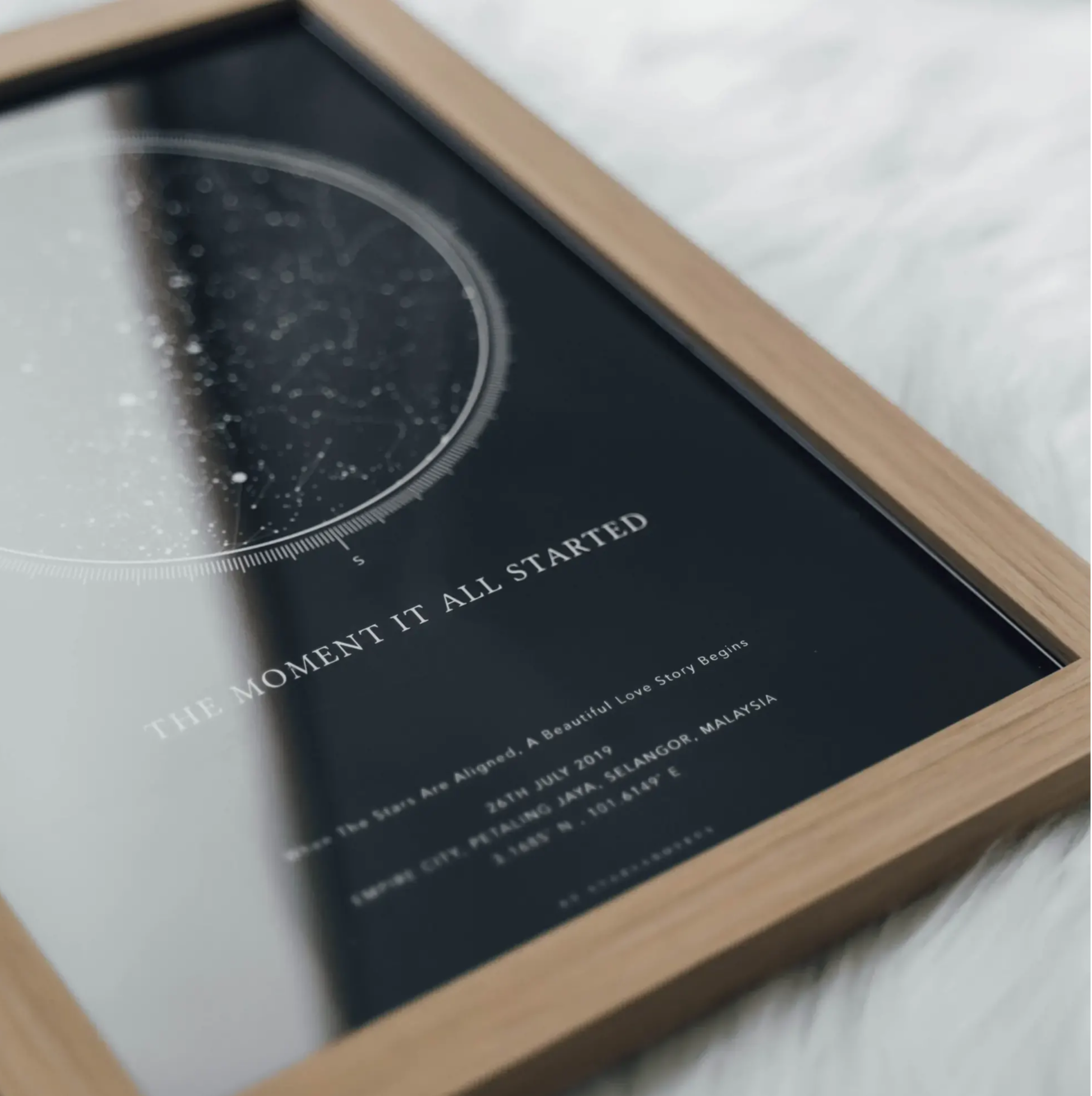 Was it your first date? Your wedding day? The birth of your child? Or the moment you realized your world has changed. Forever. Give a gift of the stars to always remember that special moment. Memories are meant to be remember, not to be forgotten
Printed on a magazine printing grade paper and framed with a wooden frame with our very own plexiglass front panel, a more durable and less reflective glass that is suitable for any setting in your home.
A4 Size: RM 179, A3 Size: RM 199, A2 Size: RM 299
Click "Create Your Star Map" below to start personalizing your very own star map now!
A personalized Star Map, engraved on a 5mm ProGlass™️ that beautifuly light up on a top-grade wooden base with two colors optio: Premium Sapele & SofPine
Laser engraved and polished by hand, starlight is as unique as the moment it celebrates. That special moment that lights up your life now can be eternalized and engraved in your living space.
Premium Sapele: RM 199, Light Pine: RM 179
Click "Create Your Starlight" below to start personalizing your very own star map now!

A wonderful gift for a loved one. It was an easy, problem-free process from order to delivery. Great customer service, especially when I was given a preview of the map before it went to print. Thank you for your help and keep up the great work!

I bought the star map through Instagram...The service was so good...so fast and the best gift ever..its a personalized gift for my friend for her wedding..It worth the price...Thank You.
I bought it for my fiance, and he loves it so much. Thank god i come across to your ig page and able to purchase it for his birthday. Thanks a lot for the team who is willing to follow my request on the design. May your business prosper and bring joy to lots of people. Thanks 😊
Our #starsaboveus community
Whether it is to celebrate family, love, anniversary, friendship of any other occasion, the community is here to share the love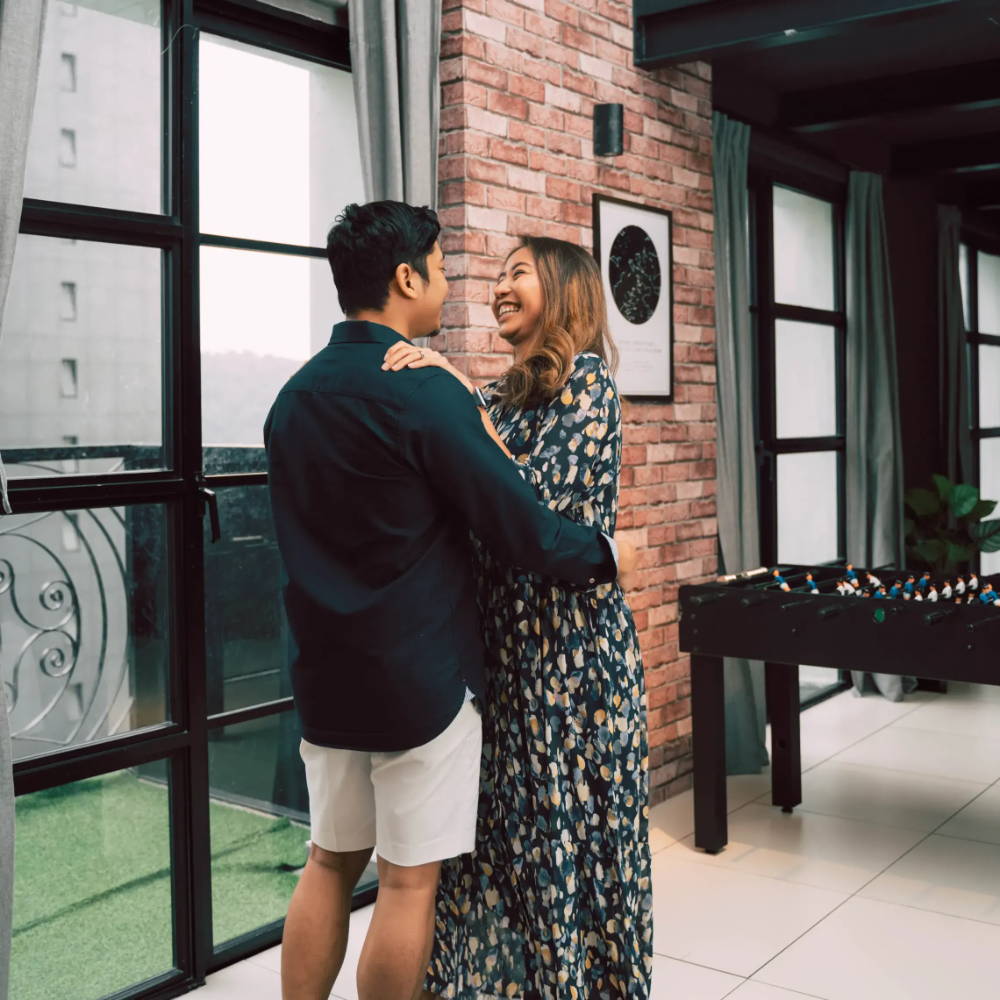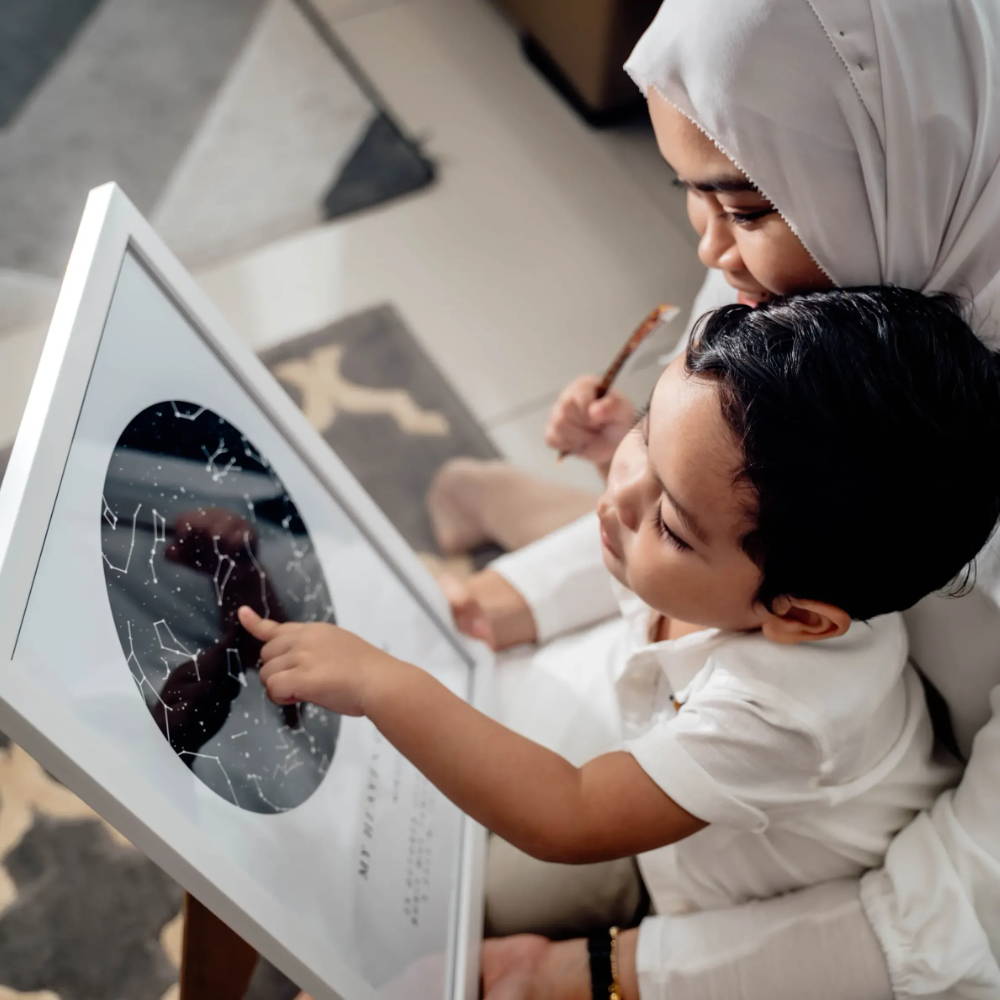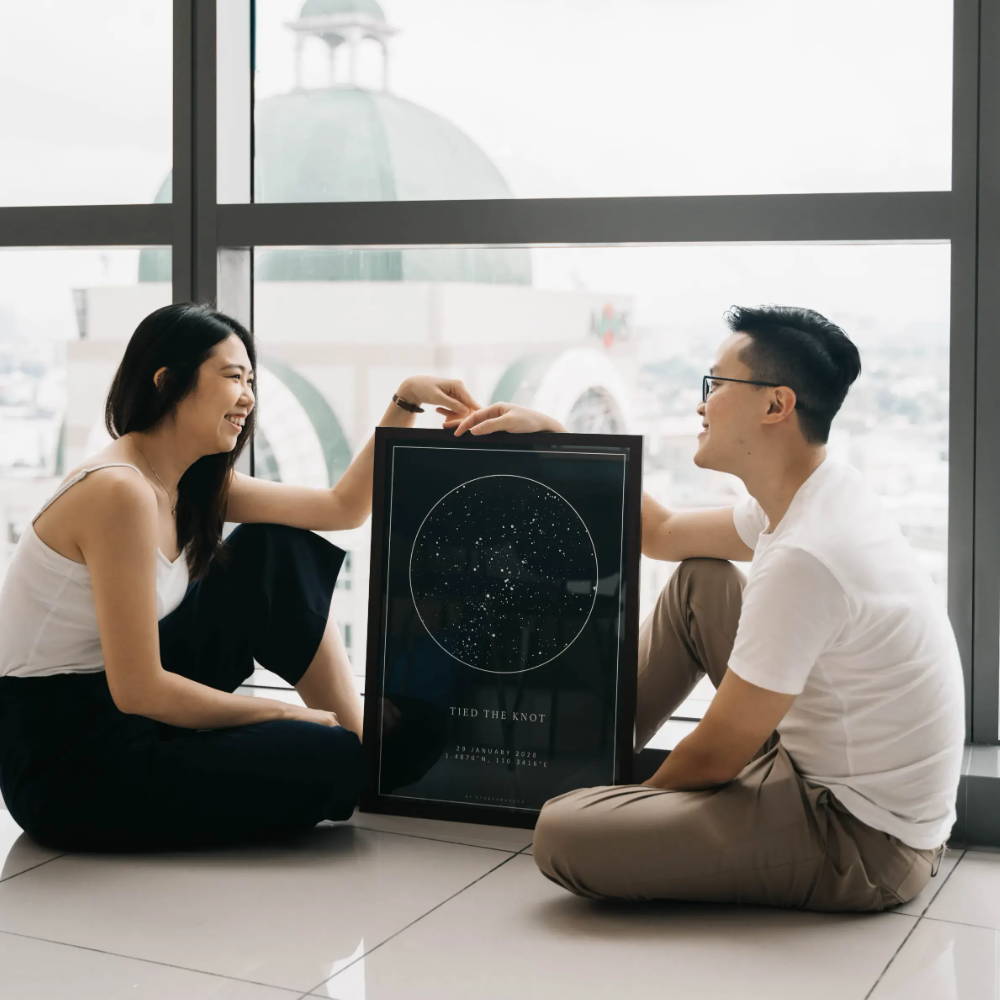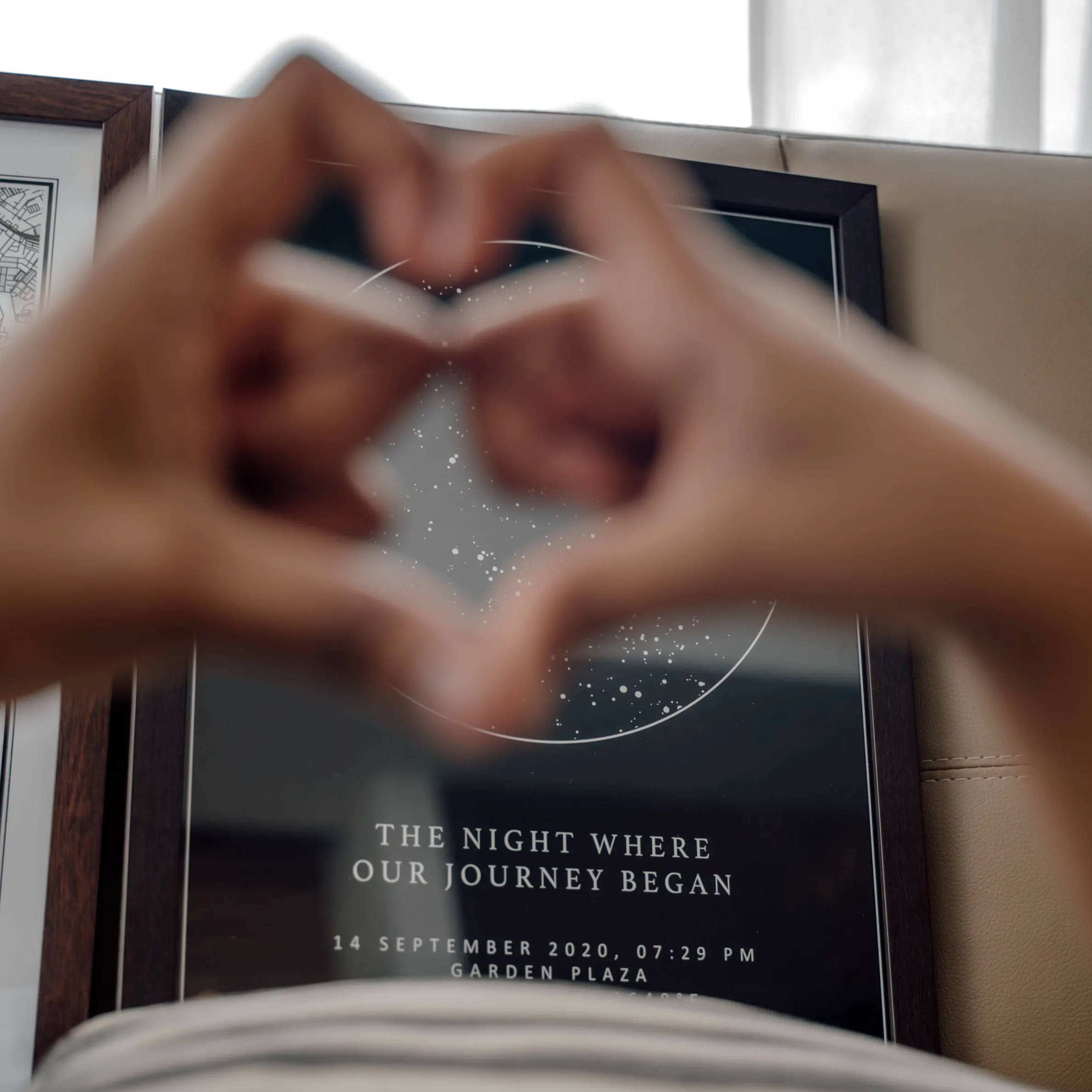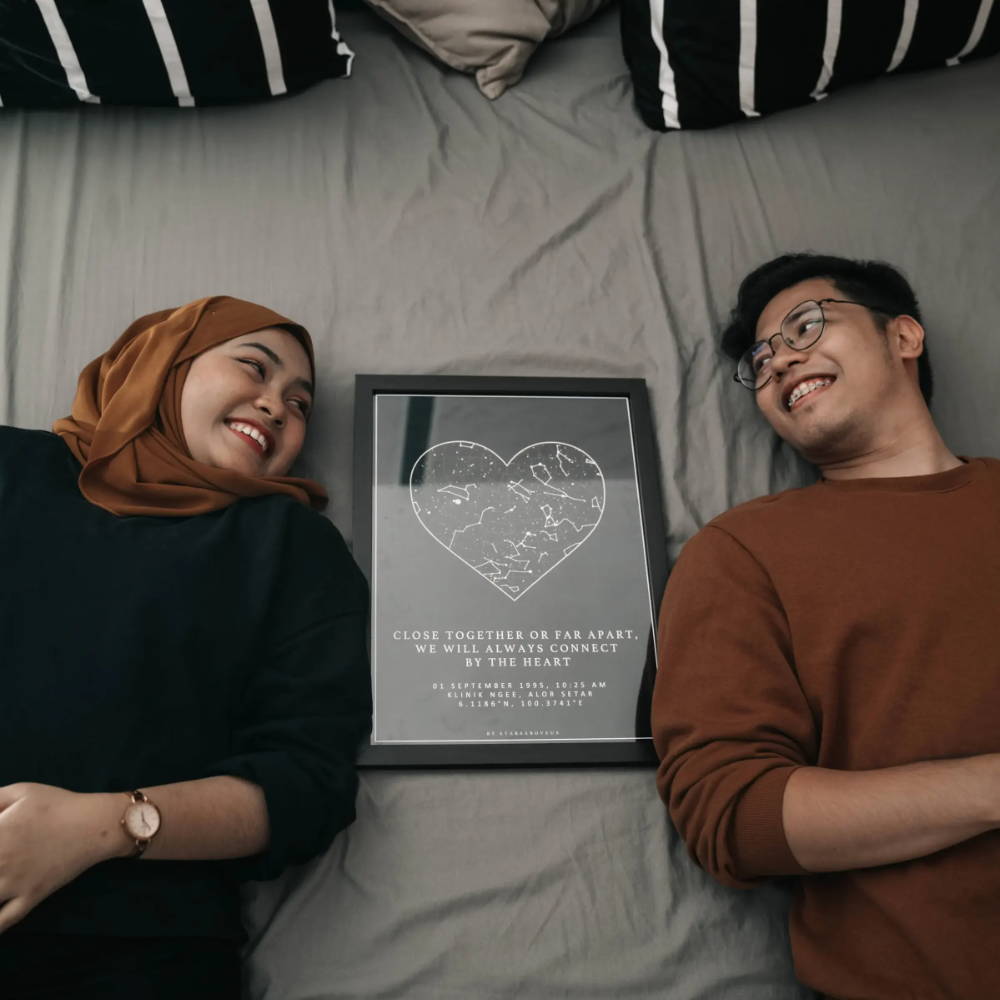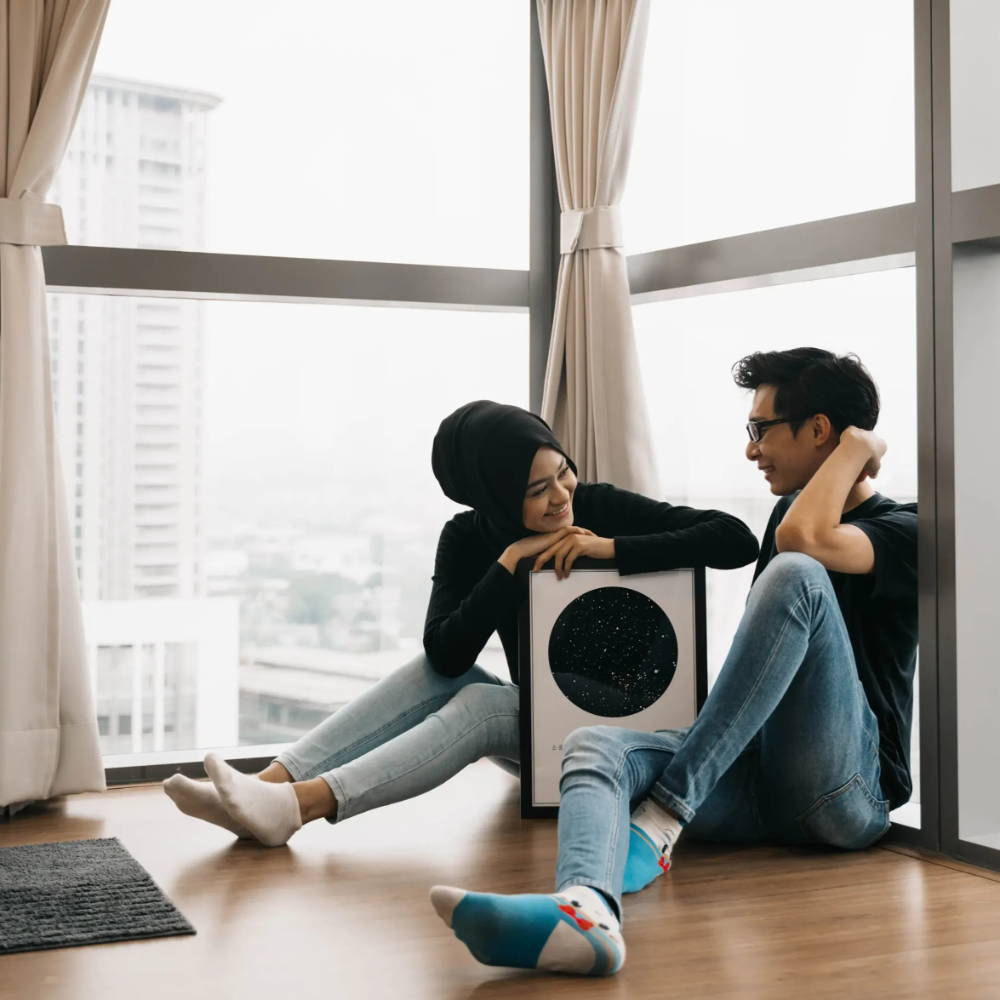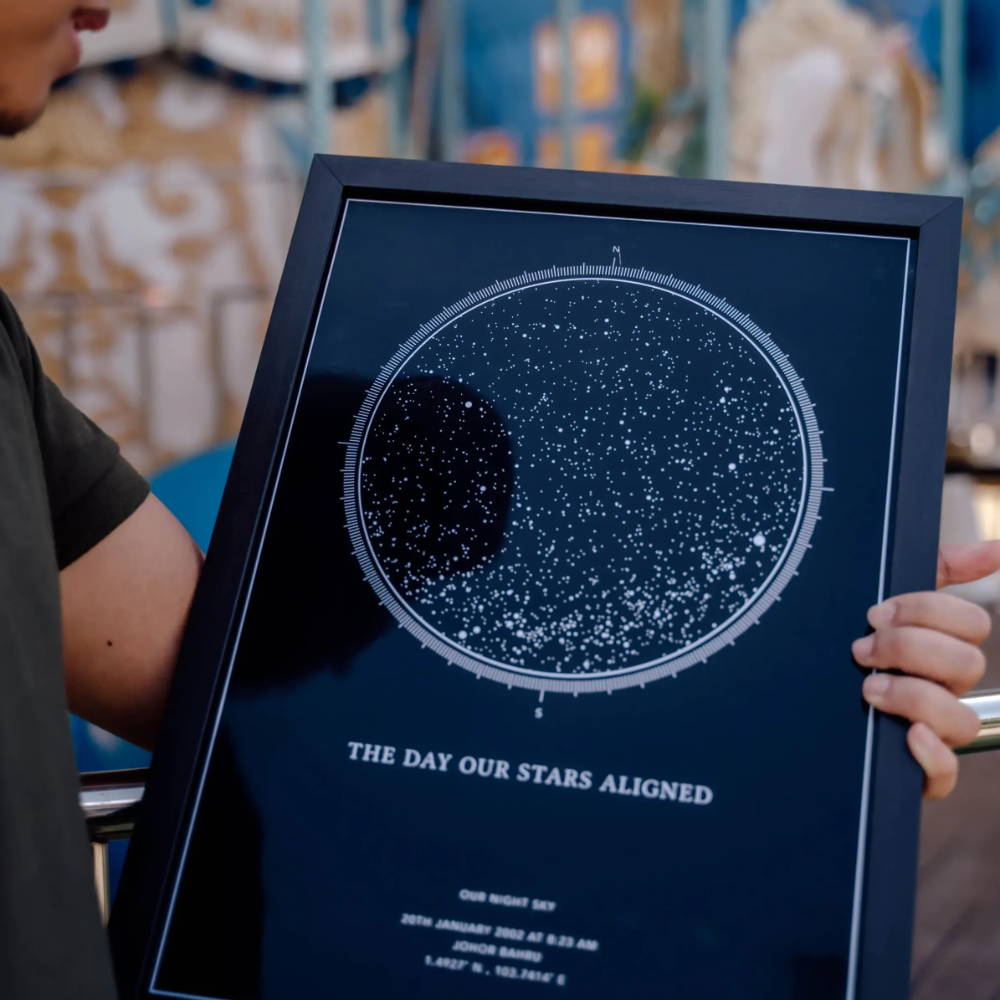 The Science Behind Our Starmap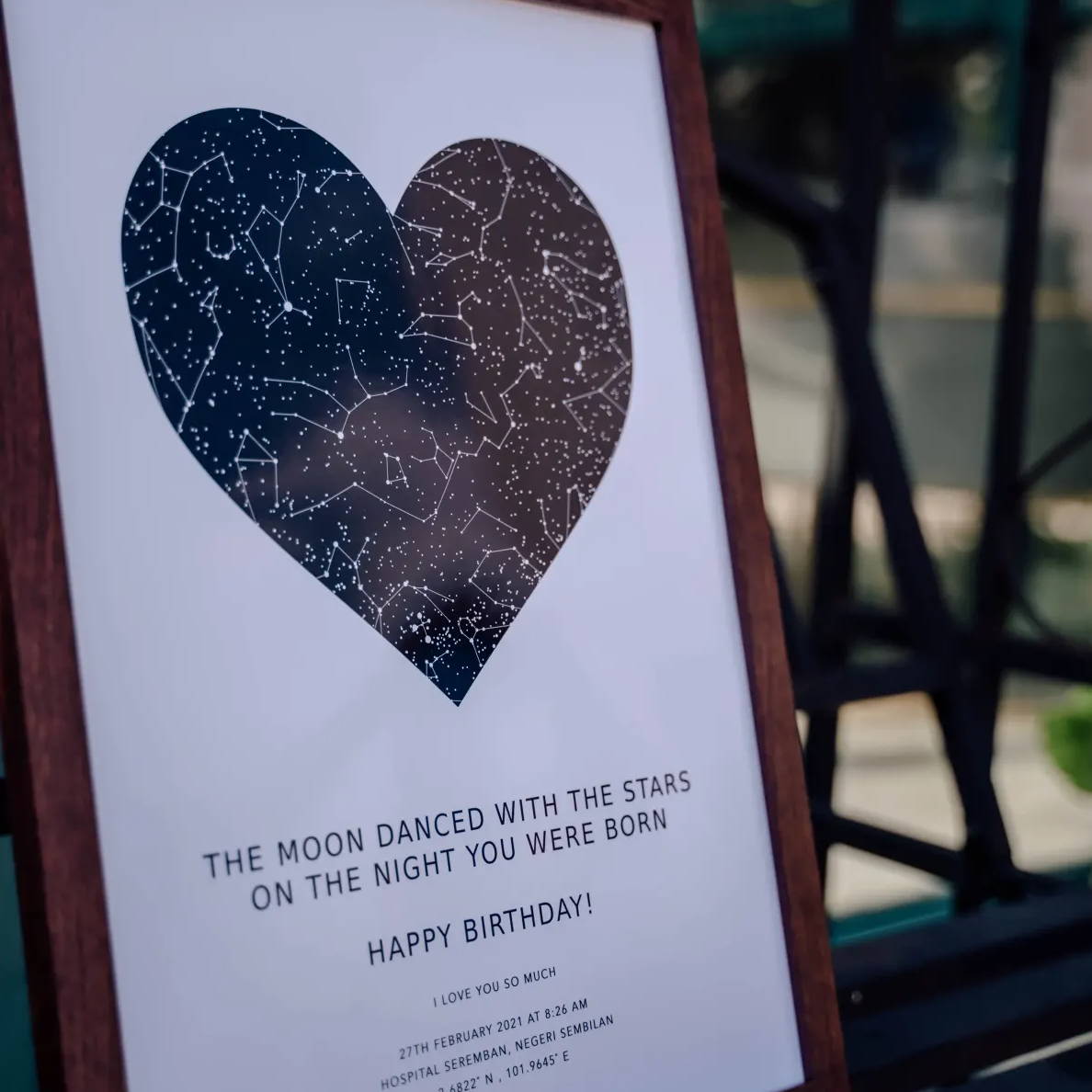 We understand there will be time where you will think, "is this even real? how accurate is this?". The accuracy of the starmap is important for us to ensure it reflects the actual star map on the date, location and time of your special memories. We are very proud of our star maps and we will always do our best to re assure you in any way we can.
How do we get the star map? We use open source planetarium software to generate the star catalog and render the positions of the stars based on your selected map. Based on this data, we transform it into a high-definition printable image.
How to verify it?
First, you can compare our star map with a popular astronomy magazine, SkyAndTelescope which has an interactive sky chart that you can verify your star map. You can search them via Google. Other third party website is also available for double-checking.